KIRKUS *STARRED REVIEW!
In this simple but insightful story, two rabbits discover that lunch with a pal is more fun than eating alone. The two bunnies, one white and one tan, set off together to hike to their dining destination, traveling down a long path under the hot sun. When the path divides, the bunnies disagree on which way to travel, and an argument ensues. Names are flung ("Stinky Feet!" "Birdy Breath!"), and the rabbits part company, each continuing to hike alone. After finding berries and clover, both bunnies are sad without a companion to share their discoveries. The rabbits gather food to take back and then reverse directions to meet in the middle, friends once again. The minimal text conveys an entire plot full of humor and emotion in just a few words, effectively using action verbs, repetition and occasional rhyming word pairs ("One bunny sighs. / One bunny cries"). Deftly designed cartoon-style illustrations use simple shapes outlined in thick, black strokes set against pastel backgrounds, which will show up well in group readings. The bunnies convey a spectrum of feelings during their journey, from apprehensiveness through anger and sadness to resolute action and a joyful reunion. This will appeal to a wide age range, from young preschoolers through emergent independent readers. Learning how to navigate the path of friendship is an important part of life, and these bunny buddies learn a lesson that is gently, beautifully shown rather than told. (Picture book. 2-7)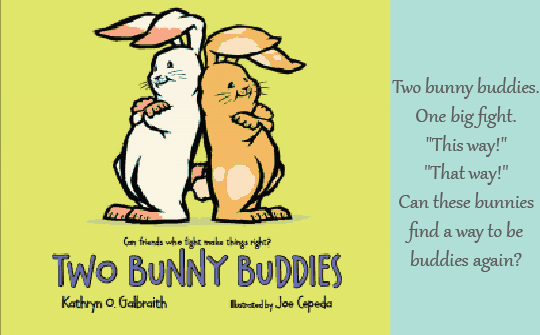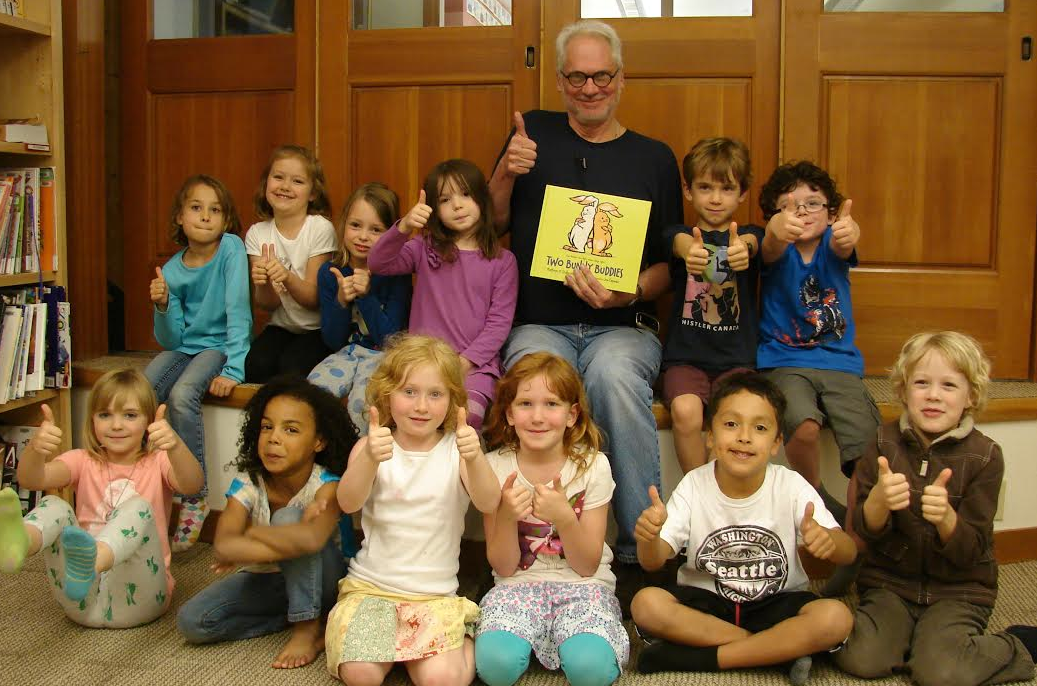 A writer/librarian friend
sharing Two Bunny Buddies with his class.
Look at all those thumbs up! WOW!